Throughout my trip Kate and I never set early mornings, or really any sort of agenda.  There were things to see and only so much time to see them in, so we just went.  My second day in London was a drizzly Saturday.  We woke up at a decent time, had some breakfast, got ready, and headed out for the day.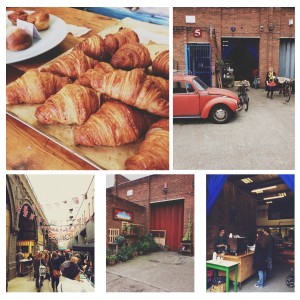 On this day Kate did have a meet up with some friends from her school, but first we explored some local outdoor markets.  The walk wasn't far from her flat, and the weather was holding for now.  The markets were great outdoor locations with old storage areas for their main business area. We sampled cheeses, smelt delicious pastries, looked on at the meats, and grabbed a fresh croissant for a snack. Honestly I don't think I have tasted a croissant this good before, nor this fresh. We wandered from Spa Terminus to Maltby, snapping photos and taking in the local atmosphere; again nothing like i've been to here in the states (although Fisherman's Wharf in Seattle came close).
After a quick stop back at the flat to drop off some cheese we made our way to the Underground and off to the Victoria and Albert Museum.  After a short wait outside for the rest of Kate's group, and being asked a few times for directions from other tourists (I blame the pale complexion and red hair), we made our way inside.  It was Design Week in London and the V&A had a few exhibits relevant to Kate's studies, so while they went through their exhibit I decided to wander about.  The area we were in was full of great time period pieces from Europe. The real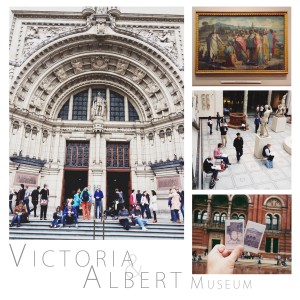 awe moment came after we started walking around a bit more.  There were some great fashion exhibits for the Design week, and as we wandered past that we came to an expansive room, full of the largest paintings I have ever seen.  Each of these paintings were done by Raphael; The Raphael Cartoons. There isn't a photo that can do the pieces justice, nor accurately portray there size.  They were simply huge. When someone in their 20's walked into the room and asked who Raphael was, I had the overwhelming urge to just slap him…fairly sure he was American…Hurray education in the arts… The courtyard grounds in the center of the Museum had stunning architecture and a lovely pool in the center, along with some works of art dotting the grounds.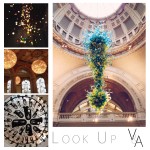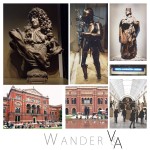 From the V&A we moved along to grab a bite to eat and some wandering through the West End.  A walk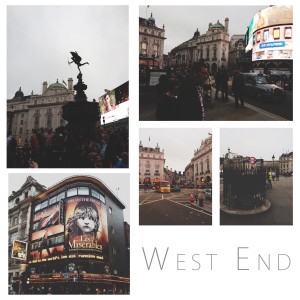 down China Town, and we were off to see the river by night. For this we needed a bus, a bus that got incredibly crowded very fast, then someone tried to sneak on.  After some yelling, and name calling, and the bus being totally turned off, we were back on our way.  We walked around the Tower of London and across the Tower Bridge before we decided we were both starved and tired.  Another bus to pick up some Indian food and back to the Flat for some rest before a very big day.