Fall is just around the corner, and that means the end of year blockbusters are too. I make is no secret that I LOVE The Hunger Games; both the books and movies.  Being a visual person I feel like the books have translated very well to film, and I love how the movies can explore aspects that the books didn't due to the fact that Katniss just did not see it (ie the Game Room).  Even with high expectations for these last two movies, the marketing roll out for Mockingjay has blown my mind. Starting off the campaign with a series of propaganda posters depicting the "unity" of the districts, moving into two amazing teasers, and most recently, innovative images of Johanna and Peeta in a gif like moving picture. And lets not forget the amazing website that has been created for the film. Keeping with the overall feel, the second teaser is even changed on The Capitol website or cut out the rebellious part at the end. It's immersive, it portrays the feeling of the tone the next movies will take, and it shows you a glimpse of what The Capitol is force feeding the citizens to make it seem like everything is just fine.
As a side note, take a look and follow the One Panem Instagram.
So let's take a look at this masterful marketing rollout. It all started with these excellent propaganda posters.
Then the second teaser. (This is edited on The Capitol website so take a look at that one also)

Just before Comic Con they released these two images of Johanna and Peeta.  A great part about this is that they integrated these into their Comic Con experience.  If you had the opportunity to go to Comic Con this year, you would have been able to sit on the "throne" that President Snow sits on for his Panem addresses while two holograms of Peeta and Johanna rotate on either side of you, flanked by real Peacekeepers.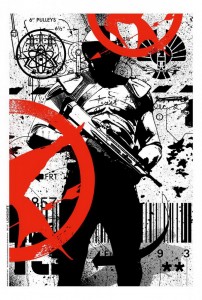 Also released at Comic Con was this poster.  We are still 4 months away from Mockinjay pt.1, and I for one cannot wait to see what they come out with next to tease this movie.  I do know the first official trailer was released during Comic Con, and should be made available as early as tomorrow (Unless you have a Samsung device and you may have already seen it). I'll keep this post updated with all the new and exciting stuff.
The teaser trailer from Comic Con was just released on Youtube.  Chills.
Tagged: Hunger Games, Mockingjay, Movie Trailer, Panem, Part 1, Peeta, President Snow, Propoganda, Teaser